"The George Bennett Fellowship (Writer in Residence)": a writing fellowship at Phillips Exeter Academy
Elias Kulukundis wanted to be a writer from an early age, but he first began to think it might be possible in his junior year when he pulled a book off the library shelf which would change his life.  It was This Side of Paradise by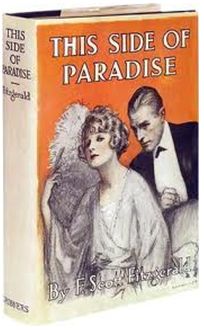 F. Scott Fitzgerald, a book about a world that was familiar to him, written in language he would have used if he had written it.  Fitzgerald was, after all, only 23 when his book was published so writing a book now seemed to be goal that was possible.
In his senior year at Exeter, he, Ben Shute and Michael Hobson, whose mother, Laura Z. Hobson had written Gentlemen's Agreement, took a special class for students interested in writing. The class met at the off-campus house of the teacher, George Bennett, on Friday nights. Sometimes Mrs. Bennett, who was French, joined the class; and he was exposed to what was called then as a "bohemian life-style".
George Bennett died in 1965 and in 1968 Elias established "The Bennett Fellowship" at Phillips Exeter Academy to enable aspiring writers to focus exclusively on their writing. The fellowship gives the writer a year of room and board at Exeter with a $5,000 allowance. Fellows have no duties, just writing their opus and being available to talk to students about writing, informally, the way George Bennett did.
If you love writing, you haven't published your book yet and you are looking for a fellowship, visit the George Bennett Fellowship at Phillips Exeter Academy.
The Bennett Fellow Bookshelf
More than 100 novels, poetry collections, short stories, children's books, plays and works of non fiction have been published by former fellows.
Here, a survey of the Bennett Fellows published books: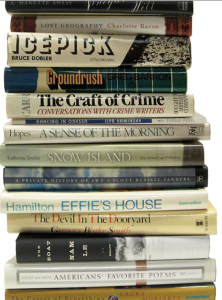 Bruce Dobler, the 1968-69 Bennett Fellow, is author of two novels,Icepick and The Last Rush North, and an as-told-to memoir entitled I Made It Myself.
John Carr (1970-71) has published both poetry and nonfiction, including Kite Flying and Other Irrational Acts, Teaching in the Darkand This Old House.
The late Morse Hamilton, the 1973-74 Bennett Fellow, published many children's books and young adult novels before his death in 1998, including Effie's House, Yellow Blue Bus Means I Love You, My Name Is Emily, Who's Afraid of the Dark and How Do You Do, Mr. Birdsteps?
Scott Russell Sanders (1974-75) has 18 books to his credit, both novels and nonfiction, including Bad Man Ballad, Writing From the Center,Staying Put and Hunting for Hope: A Father's Journey.
Poet Julie Kane (1975-76) has published several collections and chapbooks, including Body and Soul, The Bartender Poems and Two Into One. Her latest, Rhythm and Booze, is due out in August.
Bob Chibka (1977-78) has published one novel, A Slight Lapse, and is at work on another.
Lucy Ferris (1979-80) has published a collection of short stories,Leaving the Neighborhood, and five novels, Philip's Girl, The Gated River, Against Gravity, The Misconceiver and Nerves of the Heart.
Greg Barron (1980-81) published his novel Groundrush in 1982, the year after his Bennett Fellowship.
David B. Hopes, the 1981-82 Bennett Fellow, is a playwright (Saint Patrick's Well and Abbott's Dance) and a memoirist (A Childhood in the Milky Way).
Rod Kessler (1982-83) has published a collection of short stories, Off in Zimbabwe, as well as poetry and nonfiction.
Greg Smith (1983-84) is the author of two novels, The Devil in the Dooryard and The Divine Comedy of John Venner, selected by The New York Times as one of its Notable Books of the Year.
Debra Allbery (1985-86) has published one collection of poetry,Walking Distance, and is at work on a second.
Jeanne Heifetz (1986-87) is the author of two nonfiction books, Green Grocer and When Blue Meant Yellow.
In 2002, Katherine Towler published the novel Snow Island, the first installment of a three-volume trilogy.
A. Manette Ansay (1992-93) has published four novels-Midnight Champagne, River Angel, Sister and Vinegar Hill, the latter an Oprah's Book Club selection-as well as a collection of short stories and a memoir,Limbo.
Kate Bernheimer (1994-95) has published a novel, The Complete Tales of Ketzia Gold, and edited a collection of essays, Mirror, Mirror on the Wall: Women Writers Explore Their Favorite Fairy Tales.
Charlotte Bacon's collection of short stories, A Private State, won the 1998 PEN/Hemingway Award. The 1995-96 Bennett Fellow is also the author of two novels, Lost Geography and There Is Room for You, due out next year.
Playwright Richard Strand (1996-97) has seen more than seven of his plays produced. His plays in print include The Bug and The Death of Zukasky.
Gina Apostol (1997-98) is the author of Bibliolepsy, which won the Philippine National Book Award, and The Gun Dealer's Daughter.
Poet Ilya Kaminsky (1999-2000) is the author of Musica Humana.
Laura Moriarty (2000-01) has just published her first novel, The Center of Everything.
Anne Campisi (2001-02) is finishing her first novel, The Lime Tree.
As director of the Favorite Poem Project, Maggie Dietz (2002-03) served as co-editor (with Poet Laureate Robert Pinsky) of two anthologies,Americans' Favorite Poems and Poems to Read.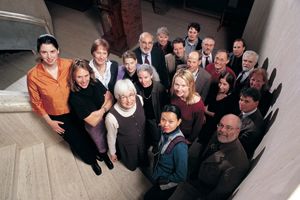 All data, courtesy of the Phillips Exeter Academy. Read more about the Fellows here.