Date/Time
Date(s) - 06/08/2013
7:00 pm - 7:30 pm
Location
Ano Syros Schoolyard – Ano Syros
Category(ies)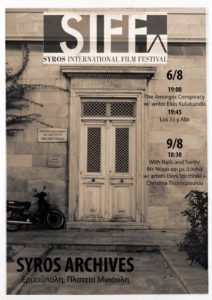 We are happy to announce that the film 'Return to Amorgos' will open the 1st Syros International Film Festival, on August 6.
Elias Kulukundis returns to the island of Amorgos for the first time in 44 years. He revisits the scenes where the true story of The Amorgos Conspiracy took place, and shares memories of that critical summer and autumn of 1969.
Elias will give a short presentation about the book and the making of the film, and there will be a question and answer session afterwards. The author will also sign copies of "The Amorgos Conspiracy."
For more information about the festival and its schedule you can visit the website and the facebook page of the Syros International Film Festival.