I recently came across an article in bbc.com, listing the books Sir Ernest Shackleton took with him onboard the Endurance when he set off for Antarctica.
When Ernest Shackleton went to Antarctica, he expected to be gone for the better art of a year, even if he could hardly expect his ship to be trapped in the ice.
Included among the books he brought were the entire Encyclopedia Britannica as well as the more unlikely Cassell's new German-English English-German Dictionary. There was a predictable selection of accounts of polar explorations, including The Northwest Passage by Roald Amundsen, Joseph Conrad's first novel Almayer's Folly, quite a few dramatic works including six plays by Lady Gregory, the Irish contemporary of Yeats and Synge (Shackleton himself was Irish,) nothing by Shakespeare or Homer or Dante.
One book on the list that caught my attention was The Brothers Karamazov by Dostoevsky
In taking The Brothers Karamazov with him, Shackleton may have been attracted by its topical interest.  It had been translated into English only three years before, in 1912, so at that point the book was almost unknown to western readers, though its author wasn't. Dostoevsky's first novel Poor Folk was published in Russian in 1846, so there was ample time for Dostoevsky's reputation to have been established.
But whatever his reasons for thing it along, if Shakleton opened The Brothers on his ill-fated voyage, he would have had an experience that is familiar to anyone who has enjoyed any of the long novels of Dostoevsky or Tolstoy—that of forsaking the world of his everyday life to be transported to a different world in different time. That can be a quite important source of relaxation to a traveler.
I had that experience with Tolstoy's Anna Karenina in 2003. My daughter Delia had signed up for a  college tour that would take her to India, but at the last minute the tour was canceled. To get some benefit from all the arrangements, the director offered to arrange a private tour for Delia and me, together with himself his wife, and his son, if I would consent to join them. Five was the minimum number that would be needed and our two families totaled five people.
That rather put me on the spot. I hadn't planned to go to India that summer. I had never been before, and India is not a place you go to on the spur of the moment if you have not thought about it well in advance. Nevertheless, I agreed to go, and soon I found myself faced with the prospect of traveling on a continent not suitable to a restful holiday, and which would not offer much physical or emotional comfort for three weeks with people I didn't know. The other people on the trip were the director who was an American man, his Greek-American wife from the "red island" of Mytilene and the man's teen-age son. Our two families had never had dinner together before we met in the airport departure lounge— and the group was so small that there would be no escaping each other if we didn't get on.
That was where Anna Karenina came in.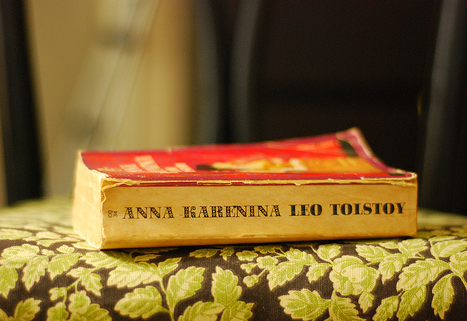 I had read the book in college, during a summer in which I read all the long novels of Dostoevsky and Tolstoy. Taking a book with you on your travels can serve a variety of purposes. I took Anna along by some instinct, knowing that on an extended voyage through unfamiliar territory, the book would be a safe familiar harbor, to which I could return at the end of what might be a long stressful day.
Our first stop in India was Bangalore, the capital of the IT industry in the prosperous south. If we had started in Mumbai, where we ended the trip, the throngs of crippled beggars crowding around us with arms outstretched for alms like creatures from the Inferno would have been a shock.
Instead, Bangalore was a mild introduction to the sub-continent, a bustling metropolis with the three-wheel open put-puts swirling and eddying around the wide avenues and roundabouts like a continuous river of steel.
In America, people had warned me against pick-pockets in the street, and in Mumbai such warnings would have been essential to be heeded. In Bangalore, I was walking on the pavement, gesticulating with my sunglasses in one hand, while discussing something earnestly with my daughter, when suddenly, a man stopped to warn me not to wave my glasses about like that. Someone—not he—could snatch them and run.
After a few days in Bangalore, we took the sleeper train to Kochi on the coast. I had not been so comfortable a train since I took the Seaboard Railway to Florida with my parents in 1941. On the way to the former Portuguese colony of Goa, we played Botticelli, a game in which someone thinks of a name of a person, real or fictional, living or dead, and the others ask questions, which if the first person can't answer will earn them a direct factual question to help identify the subject. Our guide on our journey was a cosmopolitan Indian writer, male, who had lived in Paris, but who had never been to the U.S.   Thus, we spanned two generations, forming a bridge between east and west.
Delia was the one to think of the subject— the questions we earned from her established that the person she was thinking of was a man, a writer, well known in the east as he was in the west, associated with the Indian sub-continent as well as the Caribbean. He turned out to be V.S. Naipaul, the Trnidadian Nobel Prize winning novelist, author of A House For Mr. Biswas, and A Bend in the River.
I was proud of Delia who at sixteen going on seventeen was worldly enough to have hit on a figure that would have been known to everyone in the party.
When the game was over, we all made ready for bed. I was in a lower berth, which meant I could slide my back-pack out of sight on the floor beneath me and still have it handy if I needed anything from it in the night. In my pajamas with a large pillow under my head, I took out my flashlight, as well as a Nikon camera and a tape-recorder on which I recorded my notes. After fiddling with them for a while like a security blanket, I placed them on the floor under my bed on what I could think of as my night table. Then I opened Anna Karenina.
Acting on my plan, I returned to the story where I had left it the night before, at the train station early in the book when Anna's sister-in-law and her husband Stiva are waiting for Anna's train to arrive.
At that point in the novel, the characters' fortunes are not what they will be at the end. Stiva and Dolly are distraught—Stiva has been caught having an affair with the governess, and the worst of it—as Tolstoy points out—is that this misadventure has occurred just when he needs to borrow money from his wife to shore up one of his failing business deals. The couple anxiously await Anna's arrival, for as she is married, placidly though not brilliantly, to Karenin, who is considerably her senior, she has an outward stability in her life that will enable her to mediate between the distressed partners. By the end of the novel, the roles will be reversed. Dolly's and Stiva's marriage will have survived, and Anna will be more than distraught. Returning to another railway station, one that will recall the circumstances when we met Anna at the beginning, Tolstoy 's heroine will meet her tragic end.
"All happy families are alike. Each unhappy family is unhappy in its own way," is the first sentence of the book and one of literature's famous first sentences.
I knew all that, but I was very far from re-living it, as I had only just picked up the novel again. But already the book was providing me with the comfort I needed. The world of Anna was as far from the unfamiliar landscape I was traveling through as The Brothers Karamazov would have been to Shackleton on the Endurance.
I put the book-mark in to keep my place, slipped the book under my bed beside the flashlight, and switched off the light. Soon I was slumbering to the soporific swaying of the train.
In the morning, when I felt around the floor beneath my bed, the book wasn't there. The Nikon, the tape-recorder and the flashlight were all where I had left them, but Anna Karenina was gone.
Someone must have felt under my bed in the night, and whoever it was would have had to be a very cultured person, to forego the quick resale value of the immediately useful items and instead take a book, whose only value would be in the reading.
But that value was what I very much looked forward to now. When we arrived in Kochi in the morning, my first sight-seeing in Goa was in the second book-shops of the city.
But I could find no other Anna, only The Possessed by Dostoevsky, which is a very different story, one I was not in the mood for, and I could not get involved it.
Read about Elias' trip to Antarctica last autumn here.