In this year of the four hundredth anniversary of Shakespeare's death, imagine if we all talked to each other in Shakespearean verse? 
A few years ago I received a telephone call from the Roundabout Theater in New York, soliciting a donation, as I was having dinner.  I professed to be shocked.
I wrote:
To the President
The Roundabout Theater Company
Dear Sir or Madam:
Can an organization that professes to promote culture engage in telemarketing?
Can virtue employ a vice to benefit itself?  This was somtime a paradox, but now the time gives it proof.
These are not rhetorical questions.
We know that charity begins at home.  I believe culture begins in the same place.  While in that place this evening, having dinner at home and listening to music with my daughter,  our peace was interrupted by a young man, an oral apparition, who, appearing suddenly at our banquet as unwelcome as Banquo's ghost, hideously mispronouncing my name, asked if I was at home.  I answered that indeed I was, and that was the very reason I could not speak to him.  He did not grasp my meaning, so I endeavored  to speak to him more plainly.  I said, "Take my name off your list and never, never, ever call me again.  He replied, quite arrogant in his ignorance, "Why? Aren't you interested in our plays?"  I had to bite my tongue not to give him  a reply  as hot as Harry Hotspur's to the King's messengers  that it was precisely because I  am interested in your/his plays and because I am concerned with the life of his/your/the theater,  in fact because I endeavor to make Theater an everyday part of life, that I do not wish to be disturbed in such an untheatrical, nay, such an anti-theatrical  manner.  But since he had missed my first point, I doubted if there was a hope in hellion he would  apprehend my second, although my twelve year old daughter did. To be as generous as possible to him, there are simply more things in heaven and earth than have been dreamt of lately in his philosophy.
Believe me, it is not snobbery that makes me wish to ridicule his lack of understanding.   I love the Bard and the Bard was anything but snobbish.  We know gentle Will Shakespeare had little Latin and lesse Greeke.  He spoke the language of plain folk. And even though his bread and butter came from the nobility, his heart was in the pit.   For when it comes to true theater, we are all groundlings if we are a man, or a woman either, for by your smiling you seem to say so.  No, I ridicule this callow youth  because at the moment he spoke to me, he represented the  august cultural institution that bears your name. In fact, he stood at its head.  At the moment he was speaking, he  was speaking for it, that is for you. He said he did.     "This is Don of the Roundabout Theater Company," he said,  just after he mangled my name.
As President of this esteemed  institution, you and I have free souls and this young man's bufoonery touches us not.  To put it in the coin of the realm or more importantly in the realm of coin,  I think you will catch my meaning before I drift.  I patronize your theater, as is proven by the fact that the young man  had me on his list  at all.   He was in possession of such intimate knowledge of me as  only my friends and close associates have, that is  he had my telephone number.  You have it too so you can play me like a pipe and are not ashamed to do so.  That arises only because I prefer to order tickets by telephone and credit card and not å pied.  "Et tu Brute.  What a brute part of you would attempt to kill the calf of culture for mere capital?
Strumpet that I am, I confess my numbers are known in other theaters in town.  But the only other organizations  have so ill used me  are Carnegie Hall and The Friends of Lincoln Center, both of whom have received letters from me similar t this one and have since rubbed out my name, preferring to banish me from one set of rolls, so that they  keep my name on another, if you have me.  And if you have me, then by the mark, you do have me, if you ken, or can.  And if you can't, then you can't,  you're canned, or caned, or cu–.    A foolish figure, but let that go.    Which list is more  desirable to be   on, the list of those of contribute or those who  feel themselves ill used  and write letters of complaint?  Those of us who  love the Theater need not ponder that question long.
For we are such stuff as dreams are made on and our  little life is rounded by The Roundabout.
Good-night, and when you are desirous to be blessed, I'll blessing beg of you.  And with this wish I leave you:  "Let not the ringing (or the stinging) of a  telephone pierce the fearful hollow of thine ear.
Your devoted,
Elias Kulukundis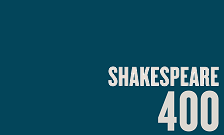 Shakespeare400 is a consortium of leading cultural, creative and educational organisations, coordinated by King's College London, which will mark the 400th anniversary of Shakespeare's death in 2016. Through a connected series of public performances, programmes, exhibitions and creative activities in the capital and beyond, partners will celebrate the legacy of Shakespeare during the quatercentenary year.
http://www.shakespeare400.org