Read an excerpt from Elias Kulukundis' next book "Bold Coasts"
Lucy and I spent our first Christmas together with Lucy's parents in Chichester, a small Roman city, built slightly inland from where the Sussex coast is now.
As we went in the Platt's kitchen door, Lucy's mother said "You're very welcome." The next moment, Lucy's aunt Eleanor, her mother's glamorous younger sister, slapped a mince pie into my hand.
"Eat that," she said.
This would be the family I had longed for, where I would experience real security for the first time.
After dinner, I wanted to go to Chichester Cathedral for the Christmas service. Lucy, Rhoda and I went together, as we did for many years after that.   With the music swelling around me, I saw a sea of faces of people waiting to take communion. I moved along beside the flow of people, fascinated by their expressions. The human sea stretched out beneath the vaulting arches, and wondrous as the pageant might be,   no one had dressed up for it. Ladies did not show off their jewels or their hair, as they would in Greece. These were ordinary folk in ordinary clothes, many of them young. This was England.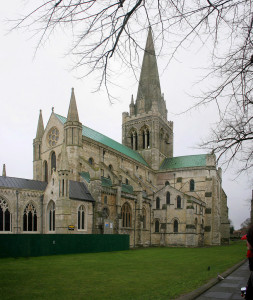 People fell away ahead of me, and suddenly I was at the communion rail.   An Anglican priest in his black and white robes was holding out a chalice and spoon.
I fell to my knees, and opened my mouth. The priest gave me the wafer, and tipped the wine into my mouth. Afterwards, I stayed there, kneeling, enjoying the tumultuous sound of the organ and the choir.
Neutral in the culture wars between Greece and America, England extended the pool of calm that surrounded Lucy. I had safe conduct there, and I could be more myself than anywhere.
Even so, the new year was a challenge. Life would happen one day after another, apparently at random. As I awoke in this new world, I looked around at the ancient trees, the holly hedges and the chalk downs of Sussex, and I saw them as the gift of circumstance, the simple result of being alive.