Today, July 21, 2013, two days before my birthday, I sang for the first time in five years. I used to sing pieces from opera and musical comedy, but about five years ago, I began to cough terribly. I thought my voice was going, and I stopped practicing and just went to Marshall Williamson, my coach and accompanist, once a week.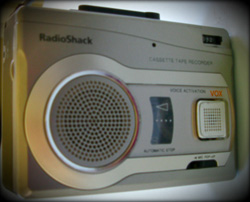 Then one week, I couldn't find my tape recorder before I left the house. I looked and looked but it was nowhere to be seen, and when I got to Marshall's empty handed, there was my tape recorder on his piano.
"You left it here last time," he said, but now of course he knew I hadn't practiced all week and probably hadn't the week before. The combination of those two things stopped me, and I gave up singing. I tried once in the meantime but coughed again. And for a year now I've been meaning to give it another try. I found a tape with my voice-teacher taking me through exercises, and in Athens I tried to find a cassette player to play it on. But in Athens they laughed at me because the technology was so old. "You may find one in Viet Nam or Cambodia," they said.
Don't be put off
But the next time I was in New York, I went to Radio Shack and found one. It was brand new for $50—probably built somewhere near Vietnam and Cambodia. Now I had the tape and the recorder.  All I needed was batteries.
Be careful: success may hang by a thread
Several months later, I found two batteries in the fridge in my kitchen in Berlin. I put the tape into the recorder and started it, but the tape became unthreaded and jammed. I almost snapped it as I tried to get it free. That would have stopped me for another five years or maybe forever. So I sat down by the window overlooking the street with the bicyclists going by in both directions, and I took my time, for once not trying to force a solution and tearing something apart. In a few minutes, miraculously, the tape was running, and I could hear myself singing.
Memories came back. Along with good times, I remembered all the stress of the years before I stopped. I was trying to sing opera, not only the pieces that I love, but "Opera", building a repertoire.   The leader of the German choir where I sang wanted me to learn a role, and she went through the part of Sparafucile in Rigoletto and underlined everything that I had to sing in red. I took a class at Julliard, where my accompanist taught vocal repertory on Thursday nights. The class was full of very good singers, most of them aiming at operatic careers, but Marshall who taught the class, encouraged me to do the things I could do well and at the same time gave me good billing.
Do what you can do
One evening Marshall announced, "This evening, Elias has a treat," and I went on to sing, "I Get a Kick Out of You," and "In the Still of the Night" by Cole Porter, which no one sang but me. As I was singing I saw some people in the audience leaning back with their eyes closed, smiling. Another time in a recital, I sang "To Yelasto Paidi" by Theodorakis. Marshall had to try it a few times before he got the 9/8ths rhythm. And once at the amateur music camp I used to go to in Quebec, I put that together with "He is an Englishman" by Gilbert and Sullavan, making a two-song musical autobiography, to recreate the conflict in my upbringing between the English and the Greek. I opened with the Gilbert and Sullavan, saying, "This song was inspired by my English nanny who wanted me to be a little English boy, and I sang, "He is an Englishman," and among the Quebecois who have their own French conflicts with the English, it brought down the house. The segu was the line, "In spite of all temptations to belong to other nations, I got involved in the Greek resistance where I sang this song"—and I went into "ToYelasto Paidi."
 Why did I stop?
So since I enjoyed singing so much, why did I stop? The stress got to be too much. On Thursday afternoons, I began to dread going to class in the evening and getting up in front of everybody. And where did the stress come from? From myself of course. I was trying too hard. That's when I should have let go, not sung, just listened to the others for a while. But I went on trying, to break new ground, or to be as good as my last gig, or something else and I stopped enjoying myself.  I felt I had reached the peak of my skill and couldn't go higher, (I thought I was on a ladder, and instead of getting off and singing something I enjoyed, I stayed on and kept on trying.) Since I was also writing a book at the time, I decided I couldn't put my full effort into two arts at the same time.
Don't make up reasons
It wasn't that I couldn't do two things. But I had forgotten why I had started singing in the first place—to enjoy myself. I could have enjoyed the singing I could do. You might say that would have been difficult. Singing opera at Julliard is not the most likely place to relax and enjoy yourself. But I should have found a way to sing things I enjoyed, for the fun of it. More popular music, maybe jazz, but the key would have been, I would have had to stop striving.
Striving doesn't help
But today I sang through almost to the end of the tape, with no coughing, and I felt the old familiar exertion in the pelvis, and later when I talked to my friend Dale in Connecticut on the telephone, Dale said, "Well, I can hear your resonant baritone," so I suppose my voice is still there.
And I think of Marshall Williamson, my coach and accompanist, who encouraged me and gave me so much pleasure. Before I could read music, he told me about a famous basso who couldn't read music either. Marshall had to spoon feed him his roles, until he memorized them.
When I stopped singing, I didn't see Marshall once a week anymore, and I thought, "When my book is published, I'll go to see Marshall and take him a copy." But by the time the book came out, Marshall had died. He was already in his late seventies, and then it was too late.
Marshall was tall, and he wore elegant long-sleeves shirts in mauves, with swirls and patterns. He had coached a lot of famous singers, and he taught vocal repertoire and piano at Julliard, but he was easy-going and supportive, with a warm Southern accent.
"You are full of surprises!" he said one day, after I had sung Prince Gremin's aria from Eugene Onegin. "Now where did you learn to sing in Russian?"
You can do anything with a teacher who supports you
Marshall was genuinely enthusiastic. When I did something well, he took it as a happy surprise, and when I did something badly, he didn't mention it until maybe much later. Then he might say, "Oh, by the way," and then he mentioned it, casually, as though he'd just remembered.
God bless him.